Innovate with venture building
Custom, done-for-you innovation programs
created by a venture builder
What is a venture builder (VB)?
A venture builder is a company that creates, launches, and scales new businesses using its own resources and networks.
Unlike venture capital, a venture builder does not invest directly in startups. Instead, it helps startups raise funds and grow visibility by hiring highly qualified teams and staying involved in their day-to-day management.
How can a VB help you grow?
If you want to innovate to keep growing but don't have or don't want to allocate your own funds or resources, a venture builder like FCJ is just what you need. We will create a portfolio of carefully chosen startups and use the VB's resources to help them scale fast so you can make up for the lack of innovation within your company.

Develop complementary products or services

Solve your business challenges

Tap into new, profitable markets

Get ahead of your competitors
Business model supported by
four pillars

that connects major stakeholders & speeds up innovation
A corporate venture builder: newly created holding company that incorporates industry stakeholders, investors, management, and partners.
A portfolio of hand-picked startups that bring the necessary innovations to the main corporation.
Coworking space, IT infrastructure, marketing, legal, and other important services startups can access to scale faster.
An international ecosystem that connects the startups with investors, innovators, and venture builders.
Tested and validated
venture-building framework
As the first step, we create a company—a corporate venture builder—that will be running your innovation program as an independent entity with you as the main shareholder. FCJ will act as your business partner and invest its resources to set up and support the newly created CVB as a founding shareholder to mitigate your risks.
To keep your investment low, we help you raise the necessary capital to operate the CVB, which will invest its resources in the startups through an investment holding in a corporate structure.
Before we start searching for the right solutions, we identify the problems: your company's pain points that the newly created CVB will be solving. By prioritizing those pain points, we'll ensure that you'll see the positive impact of the innovation program faster.
We'll hire a dedicated team of highly skilled professionals who will pick the early-stage startups with innovative solutions that will help your company solve its pain points. You'll be able to participate and make decisions at any stage of the selection process through a selection committee.
The startups will remain independent, with CVB owning between 5% and 20%.
The same professional team will develop the startups using our tried and tested methodology. The startups will have access to the Shared Service Center and its financial, marketing, legal, HR, project management, and other important services, which will allow them to focus on innovation and sales and drastically speed up their development.
We'll help the startups integrate their solutions in your internal and external processes as proof of concept to make sure that their innovations will help reach the objectives of the CVB and solve the challenges of your company effectively.
We'll help startups develop so they can achieve recurring revenue and scale in a sustainable way, reaching the necessary milestones and raising funds to boost their growth.
As the last step of the innovation program, after a startup reaches a certain valuation stage, the CVB takes an exit, and you can decide whether the solution remains independent or whether your company will have partial or full ownership in it
In the past 8 years, we created
42 venture builders

that have:
100% custom innovation model​
It doesn't matter in what niche your company operates or how complex your internal processes are. A custom model we create for you will fit your organization's structure and needs perfectly.
We are not a consultancy but your business partners who have skin in the game. We invest in the new company that will run your innovation program to share the risks with you.
We raise the funds for you
Worried about the cost or compliance? No problem. As a part of our framework, we create an interdependent investment holding and raise the necessary funds that keeps your investment relatively low.
We save you time & resources
We bring our own team of highly qualified experts on board who ensure that your innovation program is a success: from picking the right startups, helping them get funds and scale to running the innovation program and integrating new technologies into your organization.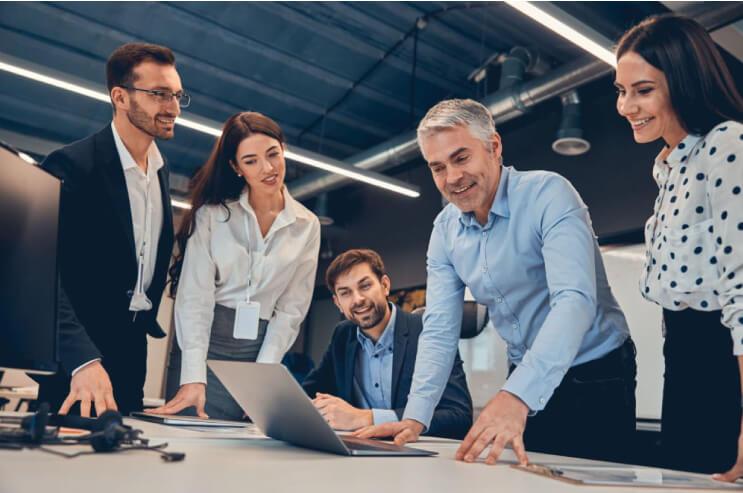 "A
transparent and secure

innovation model that brought positive changes"
We were struggling to innovate on our own because we couldn't find a startup we could trust and that also matched our requirements. FCJ built us a custom innovation model that was transparent, secure, and also saved us time and money because FCJ brought their own team of experts on board.
With this model, we are able to see the constant positive changes, especially in the mindset of our employees, which is detrimental to the growth of our company.
Alberi Antônio Rodrigues, President
The Leonora Group
"A lot of value and
significant financial returns

for our firm"
As a well-established firm in the market, we wanted to be at the forefront of innovation in the legal sector. The open and flexible innovation model of FCJ made it easy for us to connect with the innovation ecosystem and partner with the right startups in a way that suited our company best.
Their model also brought a lot of value and significant financial returns for our firm.
David Andrade Silva, Managing Partner
Andrade Silva Advogados, law firm
Fill out the form below to tell us more about your challenges and how we can help. You can also call or email us using the contact information you see below.
Cris Madureira
Expansion Director North America
 contact@fcjventurebuilder.com
Companies we helped innovate & grow
We work with companies in many different industries: from agriculture, health, education, and retail to logistics, real estate, and finance sectors.